1. Keep lesson format the same as F2F- just teach online
Everything, including lesson formats, changed for students overnight. Students went home for spring break and never went back. I wanted to help keep some semblance of normalcy for myself and my students. So I didn't add extra recording projects, nor did I change my teaching style. Instead, I decided to adapt and have the same progression and interaction as I always have, but just online with some adjustments.
Obviously, one of the adjustments was not being able to play along with a student. I do a lot of modeling and play along with students in every lesson. I tried a few different things to try and replace this part of the lesson. What has worked the best is breaking pieces down into really small chunks. I've found that everything takes longer online. Because of this, I play a few bars or short passage first. Then the student repeats exactly what I played. It works well with both younger students and more advanced students as well.
2. Add a group lesson or class
Starting in April, I added a group class for HS students at no additional charge. We meet weekly on Saturdays in addition to the regularly scheduled individual lesson. When we first started students played repertoire. However, once Region etudes were released in May, we started focusing on those. The group format helped students learn the etudes, but it also helped me in their lessons. Since we focused a lot on the etudes in the class, we could focus on technique and our other repertoire in lessons. Once the etudes were learned well, we transitioned back to repertoire performances. Currently, students can choose what they perform each week. Some of the benefits of the group lesson include:
Socialization
Learning to give and receive feedback
So far, I have received feedback from both parents and students that the group class has been a great experience. Many have requested we keep it going even when it is safe for weekly lessons to return to being in person.
3. Start guided practice sessions
I quickly found that students needed extra interaction and motivation to practice once everything shut down. (We all needed it! Not just students.) So, I started offering free one hour sessions, apart from the weekly lesson, where I guide participants through their practice time.
Here is how I structure each session:
For each segment we set a timer and agree to practice the same things at the same time.
We begin with stretching (5-10 minutes), then we play long tones (4 minutes- 1 minute per strings), scales (10 minutes), Schradieck or Sevcik (5-10 minutes), then move on to repertoire (15 minute per piece or goal). I help students pick a goal for their 15 minute sets. For example, sometimes I'll direct them to practice Bach (general). Other times I am more specific about the concept to work on such as: bow control, phrasing, dynamics, intonation, sound quality, double stops, rhythm, etc.
I practice at the same time as the students. We all set timers for the specified time and then move on together as a group. We do not listen to one another but it's about the communal experience, guidance, and accountability.
So far, students, both in high school and college have enjoyed it and found it helpful. They are usually surprised how much they can accomplish in 50 – 75 minutes.
4. Work with students on how to make and use recordings effectively
With many competitions, classes, workshops, and auditions going online, the ability to make good recordings has become an important skill.
Here in TX, TMEA decided to have all students record their auditions. So, I've been working with my students in almost every lesson, on how to record. Not only how to record, but also how to know when to stop recording.
We talk a lot about learning how to bridge the gap between what we think we sound like and what we actually sound like. I'm working with my students to be really aware of how they sound under their own ears and in recordings.
5. Implement new recital formats
In the spring, I had one student who needed to do a degree recital at the university. We decided to do a livestream recital with piano tracks. The student gathered family and invited friends and family in other cities to join the livestream. It turned out really well and was a great opportunity for family members and friends who couldn't have traveled to hear the student.
This fall I am planning recitals for my university students and students at home. Instead of live streaming, students will be submitting pre-recorded performances to me. I will then make a movie of them and host a watch party for the students' families and friends. This format has been chosen so no one has to worry about livestream issues in performance. Plus, there will be a video that each student and family can keep.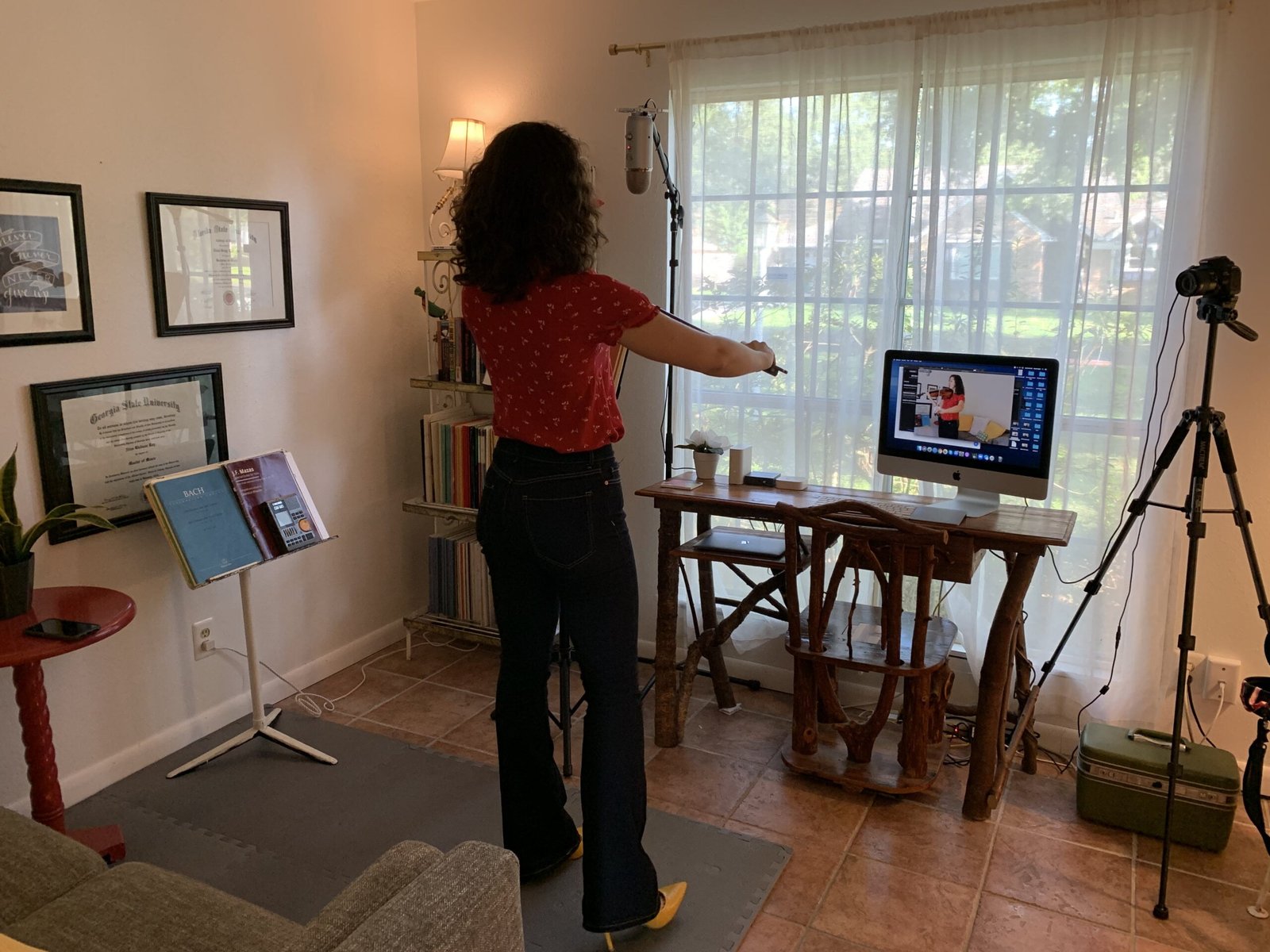 The last few months have been a challenge for everyone, but I am grateful for the opportunity to connect with my students in any format. Providing weekly lessons and keeping our schedule has helped all of us. I've been, and continue to be, so impressed by the resilience, flexibility, and hard work my students demonstrate every week.